ARAMAX® Freespan Revit Content Introduction & User Guide
Fielders are pleased to provide a detailed insight into the Revit content library for ARAMAX® Freespan. This parametric content is comprised of both System and Loadable Revit families, all created natively in Revit, allowing users the ability to design and document ARAMAX® Freespan's Structural Roofing and walling.
Also covered in this document is an overview of the Revit content development methodologies used by IGS BIM Solutions in creating the Revit families, ensuring a consistent, robust and reliable Revit library. Ultimately, the ARAMAX® Freespan Revit families should require minimal, firm-specific localisation / standardisation to become the 'go-to' Revit families when structural roofing and walling solutions are required in a Revit project.
Should you require cladding options outside the range of products detailed in this initial Revit content library, please contact Fielders to design a custom solution that meets your specific project requirements.

File access
View the downloadable files for ARAMAX
®
Freespan range
here
or download this user guide as a PDF using the button below
ARAMAX® Revit Family Creation Considerations
ARAMAX® Freespan Revit families have been created to a consistent, high standard with the objective of finding a balance between complexity of use, functionality, documentation output, file size and performance in a project environment. Primary content creation insights and considerations are listed below:
Families supplied in Revit 2016 format.

Native Revit geometry used throughout, including nested families. (E.g. no AutoCAD or SAT files etc.)

Consistent family and shared parameters (ANZRS and standard IGS BIM Solutions parameters) have been used sparingly, allowing ARAMAX® Freespan attributes to be scheduled in the Revit project environment.
ANZRS-based Subcategories and additional ARAMAX® Freespan-specific Subcategories (names only) have been applied to all geometry and linework. Resulting families allow users to fully customise how the cladding documents in a Revit project via View Templates and overrides.
Reference Planes have been applied, named, tidied and set to the correct 'Is Reference'. Thought has been given to the likely end-user requirements in placement / alignment and dimensioning of the families.


All Warnings have been reviewed and removed where possible.

The families have been fully Purged and all additional Materials, Line Patterns and Fill Patterns removed.

Logical and consistent Type naming has been applied across all families.

Family file sizes have been optimised to be relatively small in the context of the family's overall capabilities, minimising the burden of ARAMAX® Freespan families in Revit projects.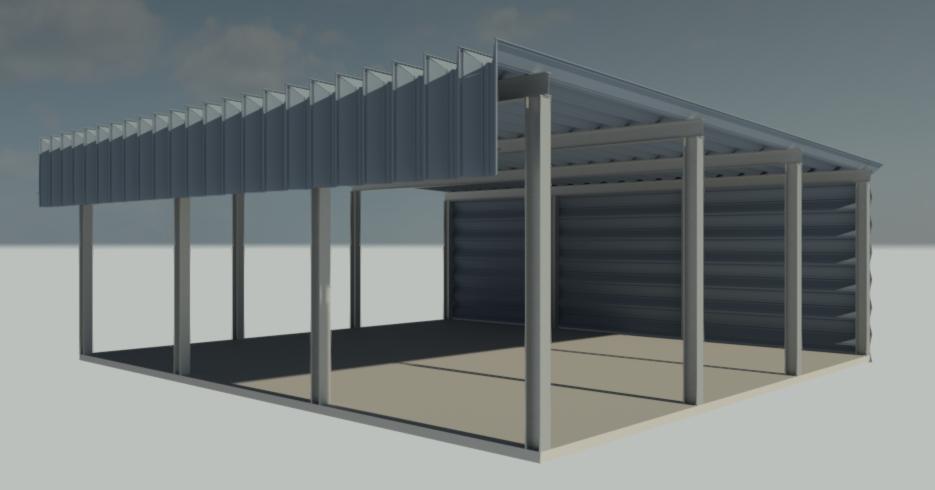 Revit library metrics and intended use of each component are listed below:
Product Ranges
ARAMAX® Freespan profiles have been represented in the following cover widths, 
700 mm

750mm

800mm

850mm

900mm
Basic Materials Library

29 very basic, non-intrusive COLORBOND© materials have been included in the Revit library. All unused material assets have been deleted from the families and all material assets purged where possible.

Profile Families
Five Profile families represent the five cover widths. These profiles form 'building blocks' behind the Mullions in the System Curtain Wall and Sloped Glazing families. These profile families can also be used in other System Families to create custom ARAMAX® Freespan system designs.
Repeating Details
Five Repeating Detail families have been included to further assist in 2D Revit project documentation.
Sample Revit Projects
One Revit project has been created containing the five profile sizes. In addition to all of the items listed above, the following items are also documented and available in the sample Revit project file. All of these Revit assets can be 'Copied & Pasted' into another Revit project.
Preconfigured Standard Wall System Families
Five Standard Wall System Families and five Standard Roof System Families allow users to very basically document ARAMAX® Freespan Cladding products. Standard Wall and Roof families are set to the correct thickness for the given product and allow for square metre take-off schedules. Standard Walls and Roofs are a good solution for large installations where the ARAMAX® Freespan Curtain Wall Systems Families can be too 'processor intensive' for the specific project application.
Preconfigured Curtain Wall & Sloped Glazing System Families
Five Standard Curtain Wall System Families and five Sloped Glazing System Families both work in a similar fashion each other. They allow users to apply the four different Cladding systems to vertical and horizontal (where applicable) surfaces.
Revit Drafting Views
Revit drafting views have been included and set up on Title blocks in the Aramax Revit Project file. These standard Aramax details have been done in native Revit linework and include 3D images to assist the user when documenting design intent in their project. Load the relevant drafting views/sheets into your project, change the title block to your own and it is
ready for use.
ARAMAX® Freespan Revit Content Selection & Key Parameters
At all times it is recommended users familiarise themselves with the most up-to-date ARAMAX® Freespan product literature available on this site or speak to a Fielders representative.
The ARAMAX® Freespan Revit library has been created with the following end-user workflow in mind:
Range Selection
What product do I require?
ARAMAX Freespan 700mm Cover width

ARAMAX Freespan 750mm Cover width

ARAMAX Freespan 800mm Cover width

ARAMAX Freespan 850mm Cover width

ARAMAX Freespan 900mm Cover width
Family Type Selection
Depending on what is required to best document your project, the following options are available:
A preconfigured System Family of the product stored in the sample Revit project.

An individual Profile Family supplied to develop your own System Families.

A 2D Repeating Detail Family can also be utilised.
Closing Statement
The overarching goal in creating this Revit content library is to increase the ease in which Revit users can design, document and specify ARAMAX™ Freespan products within the Revit environment. Fielders is committed to the continued development of this Revit content library as the industry and BIM workflows evolve over time.
We welcome your feedback and insights to ensure we can continue to accommodate your Revit content requirements.