FreeForm™ Profile Selection Guide
Fielders FreeForm™ accommodates the most complex roof configurations including curved surfaces allowing smooth transitions between roof planes and between the roof and other building elements. A variety of end panels and ridge covers cap off the most complex roof design.
The tapering ability of Fielders FreeForm™enables tapering of standard 400mm cover width profiles down to a 220mm cover width. Additionally, FreeForm™ is available in a 480mm* cover width sheet capable of tapering down to 220mm.
*480mm wide profile is available subject to extended lead times and minimum order quantities.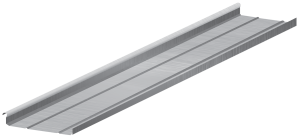 To determine a profile's windloads and spans for your region please refer to the relevant tables containing profile-specific data in the manual. For assistance in determining the best solution please contact your local Fielders® representative.